Matteo's Gourmet Food Services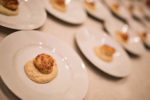 Experience exceptional cuisine, flawless service, meticulous attention to detail…all within your budget.
Matteo's Gourmet Food Services is the Las Vegas catering service provided by professional chef: Matt Meyer. Chef Matt has been in the restaurant and catering business for many years now. He has owned a variety of restaurants and currently owns Served, located in Henderson, NV. Chef Matt Meyer has many high reviews for both his restaurant and his catering service on Yelp, other local review sites, and in local newspapers.
If you're planning a special event like a wedding in Las Vegas, then Matteo's Gourmet Food Services is the caterer for you! They have excellent staff, professionalism, and of course great food. Chef Matt can prepare just about any type of food you'd like. He'll help you plan your menu and come up with unique ideas to make your event special. He's available for small private dining events as well. If you'd like to hire a professional food provider for your next event contact Matteo's Gourmet Food Services today.
Send Message to listing owner
Matteo's Gourmet Food Services