Viva Las Vegas Wedding Chapels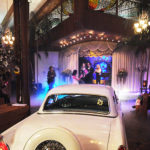 If You are looking for an Elvis Wedding, Themed Wedding or Traditional Weddings in Las Vegas, Viva Las Vegas Wedding Chapels is the only chapel to consider, hands down we have the best singers and performers to make your wedding special and incredible!
Is your dream wedding in Las Vegas romantic and tastefully traditional, or are you looking for a unique, fantasy- themed ceremony that expresses who you are as a couple? Maybe your idea of the perfect Vegas wedding is one that includes fun-filled vows with Elvis. No matter how you choose to tie the knot, Viva Las Vegas Wedding Chapel has the perfect wedding package for you!
Since I've been in show business all of my life, I know that every time I go on-stage it has to be a great performance, as flawless as I can make it. In essence, that's what your wedding is, a production! Everyone who attends wants to see how beautifully it comes together. And what we do is make it exquisite.
First and foremost, we provide the best in traditional Las Vegas weddings. Our professional wedding coordinators and staff put their hearts into making your Las Vegas wedding ceremony breathtaking to the last detail. Moreover, we are the only chapel in Las Vegas to provide truly theatrical themed weddings. We originated these spectacular themed nuptials here in Las Vegas. Though others have begun to copy our success, we believe our show business expertise definitely makes the competition pale by comparison.
If you compare what we have to offer with all of the other chapels, I feel certain you will see that we stand above them in every respect. Because if you dream of a wedding that your family and friends will remember and talk about for a lifetime, Viva Las Vegas Wedding Chapels is the only place for you! You will be my most welcomed guests, and I will do all I can to make your day unforgettable.
Send Message to listing owner
Viva Las Vegas Wedding Chapels