Add the Badge!
Why should you add the SinCity Bride Verified Badge to your website? 
- The badge helps you stand out against less reputable wedding vendors in Las Vegas.
- Show brides that you're reputable, licensed & insured!
- Qualifies your business for the SinCity Bride Spotlight posted both in our blog and on our Facebook page!
- It helps us! SinCity Bride is a completely free service to you. We don't charge for your listing, your logo, additional images, your business description, linking to your website, posting your phone number or any other way other directories charge you for your listing. All we ask in return is that you help strengthen the network of reputable, licensed and insured Las Vegas wedding professionals by linking brides back to SinCityBridalDirectory.com.
So where can you place your badge? 
- On your website (required to be considered for the SinCity Bride Spotlight)
- In your email signature
- On your Facebook profile
- In your Craigslist ads.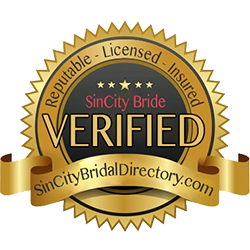 Copy the HTML code below and paste it on your website.